はじめまして、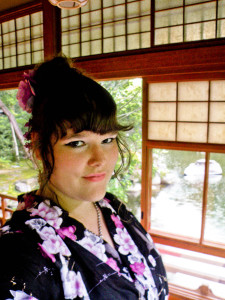 Ik ben Karolien, 25 jaar en ik woon in het Antwerpse dorpje Geel. Mijn wereldplan voor 2015 is naar Japan te gaan om daar te gaan studeren en hopelijk daar te gaan wonen voor een tijdje.
Verleden en heden
In 2013 ben ik al eens naar Japan geweest. Origineel voor drie maanden, maar omdat ik er zoveel plezier had, heb ik mijn verblijf verlengd met nog eens drie maanden. Terug in België ben ik Japanologie gaan studeren aan de Katholieke Universiteit Leuven. Maar mijn verlangen om terug te gaan naar Japan is zo groot dat ik besloten heb om in augustus terug te gaan naar Japan om er te studeren.
Dit gaat een grote uitdaging zijn voor een doodnormaal meisje uit een rustig dorp.  Mijn hobby's zijn heel normaal: lezen, tv-series of anime kijken, haken, fotografie, computerspelletjes spelen, enz.
Waarom deze blog?
Ik heb deze blog opgestart als een publiek dagboek, Voor ik vertrek wil ik mensen de kans geven om mijn avonturen te volgen; hoe ik deze reis plan en mijn gevecht om dit grote project te financieren. Eens ik in Japan ben wil ik mijn prachtige ervaringen met de Japanse cultuur graag met de wereld delen.

Ik hoop jullie mee te nemen op een fantastisch avontuur in het land van de rijzende zon.
---
はじめまして、
I'm Karolien, a 25-year young Belgian girl. I'm originally from a village called Geel. My big plan for 2015 is travel to Japan to study -and, let's face it- hopefully live there for a while.
Past and present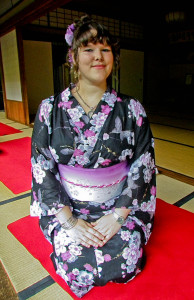 In 2013 I went to Japan for the first time. At first I was going for three months only, but having so much fun I decided to extend my stay for three more months. After I returned to Belgium, I started studying Japanese at the Catholic University of Leuven. Due to my impatience, I decided to go to Japan again and go on studying Japanese there.
This will be a big adventure, especially for a average girl form a quiet village in Belgium. I have ordinary hobbies such as reading, watching series or anime, photography, crocheting, playing computer games, etc.
Why this blog?
I started this blog as a public dairy. Before I go, I'm giving people the chance to follow my adventures of preparing for the big trip and how I conquer the struggles to finance this huge project. Together with Usagi-san (Mr. Rabbit) I will share wonderful (and often strange) observations on the Japanese culture.
I hope to bring you along on a fantastic adventure in the land of the rising sun.