Ik woon al meer dan een jaar in Japan hierdoor kan ik zeggen dat de herfst mijn favorieten seizoen is. De ondraglijke hitten en vochtigheid beginnen stilletjes aan te verdwijnen. Net zoals ik dit graag verwelkom, doen de Japanners dit ook door verschillende evenementen te organiseren. Een van deze evenementen is de Hakata light-up wandeling.
Hakata light-up wandeling
Het is een simpel concept. Verschillende tempels in de omgeving van het treinstation van Hakata zijn met de hulp van bedrijven die gespecialiseerd zijn in verlichting omgetoverd in een sprookjesachtige wereld. Tijdens dit kort evenement kun je de tempels 's avonds bezoeken tussen 17.30-21.00u
Langs de route en aan de ingang van de tempels worden ook verschillende varieteiten aan  Japans 'street food'  aangeboden. Ideaal dus om je wandeling te combineren met heerlijke Japanese gerechtjes.
Tips;
Wil alle tempels rustig bekijken zorg er dan voor dat je zeker om 17.30 begint aan je wandeling (je hebt de volle drie en een half uur zeker nodig)
Je hebt voor dit evenement een ticket nodig. Een ticket in voorverkoop kost 1000 yen (2016), koop je een ticket op de dag van het evenement dan is het 1300 yen.
Een aantal impressies
Touchouji Tempel
Joutenji temple
Mjotenji temple
En andere…
Hakata light-up wandeling 2017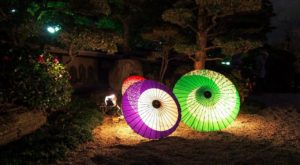 Waarschijnlijk gaat er ook in 2017 een nieuwe editie zijn. Ben je rondt eind november in Fukuoka dan raad ik je zeker aan hier eventjes tijd voor vrij te maken.
Voor meer informatie over de volgende Hakata light-up wandeling kan je hier hun website bezoeken.
Heb je opmerkingen, suggesties of vragen dan kan je ze altijd in de 'comments section' plaatsen, of op mijn facebookpagina,  google+ pagina of via Twitter.